ochCronJobs (system plugin)
Joomla! 4.0 (Alpha 1) ready!
Description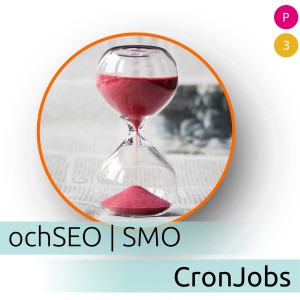 Some SEO and SMO tasks should be automated to uphold the high quality and high ranking of your site and articles. This plugin which works in combination with the ochSEO | SMO Toolbox. It extends the Toolbox component with functionality that can be periodically executed via a cronjob (Cron is a standard Linux feature that allows you to schedule tasks, called 'Cron Jobs', to run unattended at a specified frequency)
Time to automate some of those annoying SEO and SMO tasks
KunenaDiscuss
Kunena is THE forum component for Joomla! websites. The Kunena team offers a plug-in with which it is possible to (also) use the Kunena  Forum as the comment / discussion system for your Joomla! articles. You can see that in action on my articles here on this site. How does it work? At the bottom of the article, you can see a 'comment' box. When posting a comment, the KunenaDiscuss plugin will create a Forum topic and link this forum topic to the article. Every additional comment will be placed on the forum topic for this article. The beauty is that it also works the other way around: when somebody comments in the forum on this topic, that comment will then automatically appear under the article as a new comment.
What is the added value of this when looking from a SEO / SMO perspective over other commenting solutions? The answer is really simple: Google (and others) not only indexes your articles, but it also indexes your Kunena forum. So when searching via Google, not only your article will be listed in the SERP (Search Engine Results Page), but also the forum topic. Also every comment and text in those comments will be indexed and will dramatically increase the visitors that come via a search on the Internet.
What value does this plug-in add?
As much as I hate to say it, page views do matter. As it turns out, visitors attach value to how often an article is shared or read (article hits). Also bloggers like to see how often their blog has been read: it is very rewarding for them to see the number of hits on the article increase.
But now that your article is available via two 'routes' (the Joomla article and the KunenaDiscuss Topic) a user who read the article and the comments on the forum will increase the hit on the forum topic, but not on the article (and visa versa).
This plugin will when triggered (via a cronjob) synchronize the Joomla article hit count with the KunenaDiscuss topic hit count. It will set the hit count to the highest of the two hit counters. That's it! Very simple, but believe me when I speak out of experience: very valuable!
"LerendeLeiders.nl is the leading leadership community and blogging site in the Netherlands. We have integrated the Kunena forum component into our Joomla! community website. With the KunenaDiscuss plug-in we seamlessly integrate the Joomla! blogging component with a state of the art Kunena 'commenting' component. We have increased our visitor count via Search results and see that visitorsx-c find us not only on the article contents, but also on every single comment on the forum! What the ochCronJob plugin does is reflect the real visitor count on both the articles as on the Forum topics!"
Screen-shots
[Gallery created with ochGlightbox]
Why choose Online Community Hub?
Our extensions are trusted and installed on over 3.000 websites!
Latest Joomla! and PHP versions: We're always developing our components in the latest Joomla! and PHP environments!
100% Open Source and GPL licensed: You can make as many changes to the code as you require, the code doesn't stop working when your subscription ends.
Responsive design (mobile first): All extensions are as responsive as possible built on the Joomla! built-in Bootstrap Library!
Joomla! One-Click update support: All extensions are being shipped with Joomla! One-Click update support, this means you don't have to upgrade manually anymore! The only thing you need to do is make sure you have entered a valid Download Key!
Coding Quality: We code compliant to Joomla! Coding Standards and Joomla! API guidelines. This makes the readability and maintenance of the code a breeze!
Service and Support: We have trust in our capabilities and believe in transparency; therefore our support is handled via the forum which is open to everybody. No secrets here!
All extension subscriptions have a 30 days money back guarantee: If it doesn't do what we advertised, we will fix it. If we can't you get your money back... no questions asked.
Do you have an awesome idea for a new extension or a feature request for an existing extension: feel free to reach out to us! We would love to work with you on making it possible.