ochFitvids (content plugin)
Joomla! 4.0 ready!
Description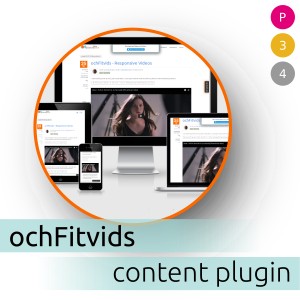 Adding video's to your website and blog is an excellent way to attract visitors to your website, share your message AND extent your visitors 'on page duration'. One of the important criteria of search engines in determining if your content is as good as you think it is, is the time visitors stay on your page. With an ever increasing number of mobile visitors it is important to also catch and hold their attention.
Not only your content but also your embedded video's must be responsive!
This Joomla! content plug-in integrates the ochFitvids.js script seamlessly into your web pages. The script will 'read' in real-time your visitors screen size and adjust the embedded video's embedded player size dynamically!
Which content providers are supported?
Currently the following content providers are supported out-of-the-box:
Youtube
Vimeo
Ted.com
Kickstarter
Prezi
Soundcloud
PeerTube
DailyMotion
Via and advanced setting you can add any Platform provider you like!
Screen-shots
[Gallery created with ochGlightbox]
Want to see the plugin in action?
Resize your browsers window, or if you are on a mobile device switch from portrait to landscape and see what happens with the youtube video below :)
Original youtube embedded video without ochFitvids integration:
Clickload embedded video, the video is loaded after the user clicks and activates the iFrame:
Click to load the embedded media...
SoundCloud embedded player
Why choose Online Community Hub?
Our extensions are trusted and installed on over 3.000 websites!
Latest Joomla! and PHP versions: We're always developing our components in the latest Joomla! and PHP environments!
100% Open Source and GPL licensed: You can make as many changes to the code as you require, the code doesn't stop working when your subscription ends.
Responsive design (mobile first): All extensions are as responsive as possible built on the Joomla! built-in Bootstrap Library!
Joomla! One-Click update support: All extensions are being shipped with Joomla! One-Click update support, this means you don't have to upgrade manually anymore! The only thing you need to do is make sure you have entered a valid Download Key!
Coding Quality: We code compliant to Joomla! Coding Standards and Joomla! API guidelines. This makes the readability and maintenance of the code a breeze!
Service and Support: We have trust in our capabilities and believe in transparency; therefore our support is handled via the forum which is open to everybody. No secrets here!
All extension subscriptions have a 30 days money back guarantee: If it doesn't do what we advertised, we will fix it. If we can't you get your money back... no questions asked.
Do you have an awesome idea for a new extension or a feature request for an existing extension: feel free to reach out to us! We would love to work with you on making it possible.