Joomla! 4 PHP 7.4 PHP 8.0 PHP 8.1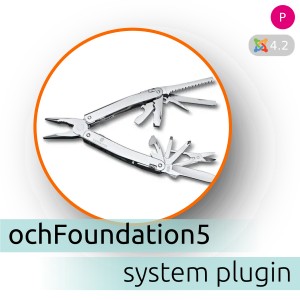 Your website looks great and your template takes care of a lot of styling for the pages and modules. But how do you easily add an accordion (slider) or tabs into your content? Is it possible to use a text snippet and inject that on several pages without the hassle of changing all these pages when the snippet changes? How do you embed PDF's in such a way that they also display correct on mobile devices?
Do you really need multiple plugins for that? Do you need to be a HTML / CSS 'wizard'?
ochFoundation5 plugin let's you easily add the most requested / used Bootstrap5 elements into your web pages!
For your information
This alert is created using a simple tag in the text... no coding required! ochFoundation5 plugin is a real 'multi tool' for website agencies and website owners!

ochFoundation5 plugin is a plugin that will let you easily add the following Bootstrap5 elements into your web pages using content tags:
Alert: Display a styled alert with optional close button
Article: insert another article into your content, full or only the intro text. Style and display a read-more button if you need it
Badge: insert a badge

Like this one

into your text
Blockquote: add a Quote and optionally a caption for the quote, a quote can have custom classes so you can style them like you want
PDFembed: this will display the configured PDF in the Mozilla Foundation PDFjs viewer. Giving you and your visitor a seamless PDF experience on ALL devices!
Popover: insert a popover on text in your document and set options like title, how to trigger the display and direction.
Snippet: insert predefined text snippets to ease maintenance when that text snippet changes... all references will automatically change as well!
Accordions: remember the sliders that you could click open to display text? Accordions are the Bootstrap5 equivalent and are awesome! You can even have nested accordions!
Tabs: tabs are a great way to give structure and display only relevant information to your visitors. Bootstrap5 tabs are great but difficult to implement. Not any more! you can even have nested tabs.
Comment: a special tag that will not render on the front-page. You can use it to add comments to the text that will show in the editor but not on the web page itself.
Requirements
Joomla 4.2+

PHP 7.4 or Higher
Bootstrap5 template
Basic Joomla! knowledge available between the chair and the keyboard :)
Installation is easy!
Download the plugin
in the Back-end go to menu Extensions > Manage
in the tab [Upload file package] click [browse] and select your downloaded plug-in
click [Upload & Install], wait for the installation to finish
Configuration
in the back-end go to menu Extensions > Plugins
search / locate the 'ochFoundation5' system plugin
open the plugin
in the tab [Plugin] set status to [Enabled]
in the tab [Plugin] configure on which components the plugin should be handling the tag replacements, leave empty to use on all components
in the tab [Snippets] you can create as many snippets as you like
in the tab [Advanced] configure the advanced options to your liking > look at the tool-tips for information about what each setting does
click [Save & Close] and you are good to go
Activate Joomla! One Click update integration
Updating of the plugin is integrated with the Joomla! One Click Update manager. In order to activate follow the steps below:
On this site: In the menu [Tools > My Subscriptions] copy your 'Download ID#'
On your site: In the plugin configuration click the [Advanced] tab and paste the 'Download ID#' in the [Download ID]  field
Click [Save] or [Save & Close], You will be prompted with an informational message that your Download ID was changed.