ochGlightbox (system plugin)
Joomla! 4.0 ready!
Description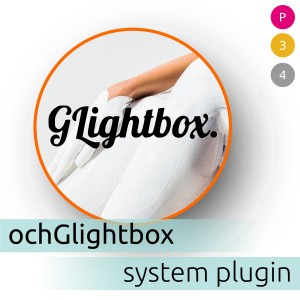 Are looking for a solution that automitically adds a lightbox on your images (popup)? Or add multiple images on your page into a lightbox gallery? Do you want the lightbox and / or gallery to perfectly fit your sites template?
Time to automate image lightboxes and galleries and 'wow' your visitors!
ochGlightbox is a Joomla! system plugin that builds upon GLightbox. Glightbox is a pure JavaScript lightbox. It can display images, iframes, inline content and videos with optional autoplay for YouTube, Vimeo and even self hosted videos!
Small - only 11KB Gzipped lightbox script!
Fast and Responsive - works with any screen size
Gallery Support - Create multiple galleries
Video Support - Youtube, Vimeo and self hosted videos with autoplay
Inline content support - display any inline content
Iframe support - need to embed an iframe? no problem
Keyboard Navigation - esc, arrows keys, tab and enter is all you need
Touch Navigation - mobile touch events
Zoomable images - zoom and drag images on mobile and desktop
Themeable - create your skin or modify the animations with some minor css changes and Joomla template overrides!
Screen-shots
Why choose Online Community Hub?
Our extensions are trusted and installed on over 3.000 websites!
Latest Joomla! and PHP versions: We're always developing our components in the latest Joomla! and PHP environments!
100% Open Source and GPL licensed: You can make as many changes to the code as you require, the code doesn't stop working when your subscription ends.
Responsive design (mobile first): All extensions are as responsive as possible built on the Joomla! built-in Bootstrap Library!
Joomla! One-Click update support: All extensions are being shipped with Joomla! One-Click update support, this means you don't have to upgrade manually anymore! The only thing you need to do is make sure you have entered a valid Download Key!
Coding Quality: We code compliant to Joomla! Coding Standards and Joomla! API guidelines. This makes the readability and maintenance of the code a breeze!
Service and Support: We have trust in our capabilities and believe in transparency; therefore our support is handled via the forum which is open to everybody. No secrets here!
All extension subscriptions have a 30 days money back guarantee: If it doesn't do what we advertised, we will fix it. If we can't you get your money back... no questions asked.
Do you have an awesome idea for a new extension or a feature request for an existing extension: feel free to reach out to us! We would love to work with you on making it possible.