Joomla! 3 PHP 7.4 Maintenance Only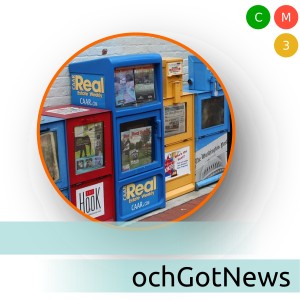 Marketers in a content-driven landscape are responsible for producing huge amounts of content, day in and day out. But most of us don't have the time, staff, or budget to publish enough great (or even good) content. We do the best we can, but it's often impossible to stay ahead of the demand.
Time to enable your community to easily generate curated content for your website!
Content Curation
Content curation is when an individual (or team) consistently finds, organizes, annotates, and shares relevant and high quality digital content on a specific topic for their target market.
Adding content curation to your content marketing mix delivers the following benefits:
Improves Search Engine Optimization: Curated content becomes additional indexable pages that provide more doorways into your site via search engines.
Establishes Credibility as a Thought Leader: Curated content from high quality third party sources helps you develop go-to web resources that improve your credibility and trustworthiness as an impartial authority on your topic.
Supports Lead Generation: Curated content drives incremental site visits that increases the potential for landing quality leads.
Streamlines Lead Nurturing: Curated content is easily repurposed via newsletters, emails, and other channels to make lead nurturing simple and consistent.
Complements Social Media & Blogging: Curated content supplements your social media publishing schedule and helps facilitate social media conversations—not only with prospects and customers, but also with peers.
"LerendeLeiders.nl is the leading leadership community and blogging site in the Netherlands. To stay top of mind with our customers we know that content is king and your online reputation is as good as your last blog. ochGotNews enables us to make LerendeLeiders.nl the default place to go to for ALL your leadership news and articles. It has strengthened our position as Thought Leader when it comes to Leadership simply by enabling the community to easily add curated content from other websites."Platform Lerende Leiders
Screen-shots
[Gallery created with ochGlightbox]
Video
Demo?
Register an account and click here. When logged in you are able to add News items yourself!
Requirements
Joomla 3.7 or higher
Basic Joomla! knowledge available between the chair and the keyboard :)
Installation is easy!
Download the package
in the Back-end go to menu Extensions > Manage
in the tab [Upload file package] click [browse]  and select your downloaded package
click [Upload & Install], wait for the installation to finish
Component Configuration
In the back-end go to menu Components > ochGotNews.
[required] In the components side panel click Categories
>> Create one or more categories for your News items
In the component click on the [Options] button
>> configure the ochGotNews (default) options and Permissions
[required] In the Back-end add a menu item that will hold your News items
>> Menu Item Type = ochGotNews > News items overview
>> The alias for this Menu item will be used for the url's (SEF) of your News items
Activate Joomla! One Click update integration
Updating of the component is integrated with the Joomla! One Click Update manager. In order to activate follow the steps below:
On this site: In the menu [Tools > My Subscriptions] copy your 'Download ID#'
In the back-end go to the component
Click on the [Options] button and paste the 'Download ID#' in the [Download ID] field (Advanced tab)
Click [Save] or [Save & Close].
Tips & Tricks
Can I see how many times a news item is read and how many times a visitors actually visited the source for the news item?
Yes you can! In the back-end you can see how many 'hits' a news item has (how many times it is shown), but also how many 'clicks' it has (actual clicks of visitors on the [View Source] button.
Is auto publishing of News items possible without Publisher / Administrator action?
Yes it is! in the ochGotNews component options, you can configure [Auto publish] with one or more Joomla! groups. All submitted News items by users that are member of this / these group(s) will be directly published and visible for all visitors!
Is it possible to automatically set a auto unpublish date?
Yes it is! In order to keep maintenance to a minimum, you can, in the ochGotNews component's option, configure [Days to unpublish]. The value configured here will be added to the creation date and set as publish end date.
Some web sites block fetching the information from their site (error 999), what now?
Some websites don't like you automatically fetching information from their blogs / articles and have al kind of 'smart' detection mechanisms in place to prevent you from doing that.
That's a shame because they throw an error 999 and therefore the validation process is not finished okay and you cannot add the news item. Starting from version 0.1.4 you have the possibility to white list sthese web sites in the ochGotNews options. Just add the domain name (comma separated if you want to add multiple) in the whitelist domain names field. Now when a check fails with error 999 AND the site is on your white list then you can manually fill in the needed information and save the news item.
Not all information is fetched from source url, how is that possible?
When you click the [Validate Source URL and fetch information] button, ochGotNews will visit the web page set in the Source field. In that page it will search for the requested information. If the Source website does not comply to web standards, does not implement Open Graph / TwitterCards correct, it is possible that some information is not found. That information then needs to be entered manually (if it is a required field).
Below you can see the logic behind the search:
Title > [og:title] tag > [twitter:title] tag > [<title>] meta tag > not found
Description > [og:description] tag > [twitter:description] tag > [<meta name="description"] meta tag > not found
Site Name > [og:site_name] tag > [host name] parsed from source url > not found
Image > [og:image] tag > [twitter:image] tag > not found
I have filled in all fields, but cannot click [Submit]?
For security reasons, the submit button is disabled by default. In order for the submit button to become active you first needs to click the [Validate Source URL and fetch information] button. Clicking the button will do some basic checks locally in your browser ensuring the entered Source is a valid URL. These checks are done locally in the your browser. Another check on the Source input will be done by your server: the component checks if the Source URL is invalid, pointing to a non-existing web page, etc. the error will be pushed back to submitter with a short error description. The [Submit] button will be enabled when all checks have passed!
Can I prevent submitters of News items to edit their own News item after I have checked and published it?
Yes you can! There is a permission setting [Edit Own] that you can disable for the group of submitters.
Can I manage News items from the front-end or do I need to go to the back-end every time?
Yes you can! When you have sufficient rights (edit / publisher / administrator) you have (full) edit options via the front-end. When logged in, every news item that you have sufficient rights to will have a small edit button in the right upper corner, both in the Overview pages as in the Item page.