ochLogFiles (Free component)
Joomla! 4.0 (BETA) ready!
Description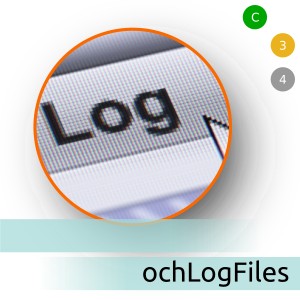 Log files are an important source of information as it comes to how your website is functioning. If users encountered errors or if there are activities that are important and need to be reported to the website maintainer log files are a developers 'weapon' of choice. Log files are an important source of information in your maintenance toolbox. But in Joomla there is no easy way to access your log files other then through FTP or via logging in to your hosting provider plesk or cpanel making it a task that is often skipped.
View and analyze your Joomla! log files the easy way!!!
ochLogFiles is a component that will make the Joomla! log files available from your Joomla! administrator environment. Just select the log file from a list of log files that you want to view and the contents are displayed on screen, ready for you to take action!
For advanced use cases it is even possible to delete old / archived log files or edit log files to remove old content that you have already analyzed.
Need frequent access to the same log file? Starting with version 1.2.0 you can add files to the side bar in a favorites overview. You can even add a file to the Favorites list that is outside your log files directory: ideal for handling files that for example have settings in them!
Language support
ochLogFiles comes out of the box with the following languages:
en-GB
fr-FR
nl-NL
sr-RS
sr-YU
tr-TR (Türkçe Çeviri: Mehmet TAŞ)
You can create or improve your own language on Transifex. Or just use the Joomla! language override system: It's your site, you decide what to do with it :)
Screen-shots
[Gallery created with ochGlightbox]
Why choose Online Community Hub?
Our extensions are trusted and installed on over 3.000 websites!
Latest Joomla! and PHP versions: We're always developing our components in the latest Joomla! and PHP environments!
100% Open Source and GPL licensed: You can make as many changes to the code as you require, the code doesn't stop working when your subscription ends.
Responsive design (mobile first): All extensions are as responsive as possible built on the Joomla! built-in Bootstrap Library!
Joomla! One-Click update support: All extensions are being shipped with Joomla! One-Click update support, this means you don't have to upgrade manually anymore! The only thing you need to do is make sure you have entered a valid Download Key!
Coding Quality: We code compliant to Joomla! Coding Standards and Joomla! API guidelines. This makes the readability and maintenance of the code a breeze!
Service and Support: We have trust in our capabilities and believe in transparency; therefore our support is handled via the forum which is open to everybody. No secrets here!
All extension subscriptions have a 30 days money back guarantee: If it doesn't do what we advertised, we will fix it. If we can't you get your money back... no questions asked.
Do you have an awesome idea for a new extension or a feature request for an existing extension: feel free to reach out to us! We would love to work with you on making it possible.