ochResponsiveImages (system plugin)
Joomla! 4.0 ready!
Description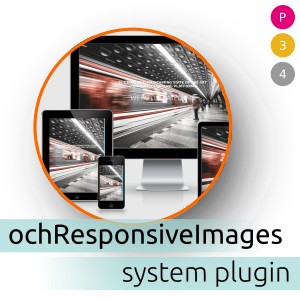 Are you struggling with 'tuning' your images on your site for best performance and Google's page speed ranking? What looks great on a desktop is a complete bandwidth waste on mobile devices. When optimizing the image for mobile devices, how will they look on all different sizes of devices out there and how will they 'blur' on the desktop?
Time to automate Image optimization and use HTML5 Image Srcsets
With the ochResponsiveImages system plugin, you can configure a set of breakpoints: sizes for devices you want to support. For each break-point an optimized image is automatically generated and cached. Your original image is replaced with an HTML srcset containing all the cached images. What will happen now is that the browser of the visitor will decide which image fits best on his/her screen and only download that specific cached image!
The following break-points / rules are default, but can be customized to even fit your 'unique' template requirements / breakpoints:
min-width: 1920px,1920px
min-width: 1366px,1366px
min-width: 1200px,1200px
min-width: 992px, 992px
min-width: 768px, 768px
min-width: 575px, 575px
min-width: 480px, 480px
What value does this plug-in add?
The ochResponsiveImages system plugin will:
Speed up your site: only correct sized images will be downloaded instead of large one-size-fits-almost-all images
Improve your Google's Page Speed index as the images on the page are optimized for all devices
Save you a lot of time resizing and compressing images manually... over and over again!
Convert your images to the Google's new WebP nextgen image format and serve these to browsers that already support them
Demo?
visit this demo page to see it for yourself
Screen-shots
[Gallery created with ochGlightbox]
Why choose Online Community Hub?
Our extensions are trusted and installed on over 3.000 websites!
Latest Joomla! and PHP versions: We're always developing our components in the latest Joomla! and PHP environments!
100% Open Source and GPL licensed: You can make as many changes to the code as you require, the code doesn't stop working when your subscription ends.
Responsive design (mobile first): All extensions are as responsive as possible built on the Joomla! built-in Bootstrap Library!
Joomla! One-Click update support: All extensions are being shipped with Joomla! One-Click update support, this means you don't have to upgrade manually anymore! The only thing you need to do is make sure you have entered a valid Download Key!
Coding Quality: We code compliant to Joomla! Coding Standards and Joomla! API guidelines. This makes the readability and maintenance of the code a breeze!
Service and Support: We have trust in our capabilities and believe in transparency; therefore our support is handled via the forum which is open to everybody. No secrets here!
All extension subscriptions have a 30 days money back guarantee: If it doesn't do what we advertised, we will fix it. If we can't you get your money back... no questions asked.
Do you have an awesome idea for a new extension or a feature request for an existing extension: feel free to reach out to us! We would love to work with you on making it possible.