ochSimpleFirewall (system plugin)
Joomla! 4.1 ready!
Description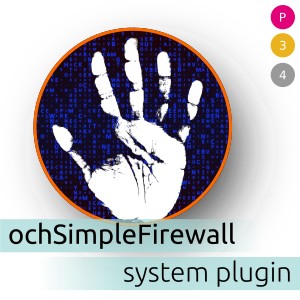 Are you worried that your website gets hacked? Are you afraid of your website pushing malware to your visitors because of this?
Did you know that your website is visited (very) regularly by bots scanning your site for vulnerabilities or spam possibilities? Did you know that there are hundreds of (commercial) companies trying to fight these offenders and keeping track of their IP addresses?
Did you know that now you can protect your website by automatically blocking all IP addresses that are known to participate in on-line attacks, on-line service abuse, malwares, botnets, command and control servers and other cyber crime activities?
Did you know that you can automatically block visitors based on their country?
Keep your website, your content and your visitors secure!
With this plugin you can instantly block (or redirect) visitors, who's IP address is in an IP set of known offenders, from snooping around and look for vulnerabilities in your site. The IP Sets are maintained by (commercial) companies and are regularly (some real time) updated to hold the latest offenders. These IP sets can have millions of know offenders!
And you can tap into this massive 'community' maintained resource and block all offending bots / hackers / malware / spammers on your site.
Actively Notify your users of account changes / activity!
New in version 2.2.0 are User Notifications. Notify your users of crucial account activities in case their account got compromised. Notify them of an email or password change, but also when their account is used to login on a new device / from a new location! Read more in the following blog: Do you know when your account is (ab)used?
Language support
This plugin comes out of the box with the following languages:
You can create or improve your own language on Transifex.
Screen-shots
Why choose Online Community Hub?
Our extensions are trusted and installed on over 3.000 websites!
Latest Joomla! and PHP versions: We're always developing our components in the latest Joomla! and PHP environments!
100% Open Source and GPL licensed: You can make as many changes to the code as you require, the code doesn't stop working when your subscription ends.
Responsive design (mobile first): All extensions are as responsive as possible built on the Joomla! built-in Bootstrap Library!
Joomla! One-Click update support: All extensions are being shipped with Joomla! One-Click update support, this means you don't have to upgrade manually anymore! The only thing you need to do is make sure you have entered a valid Download Key!
Coding Quality: We code compliant to Joomla! Coding Standards and Joomla! API guidelines. This makes the readability and maintenance of the code a breeze!
Service and Support: We have trust in our capabilities and believe in transparency; therefore our support is handled via the forum which is open to everybody. No secrets here!
All extension subscriptions have a 30 days money back guarantee: If it doesn't do what we advertised, we will fix it. If we can't you get your money back... no questions asked.
Do you have an awesome idea for a new extension or a feature request for an existing extension: feel free to reach out to us! We would love to work with you on making it possible.